Six participants met by the Maple Bay Marina on Nov. 11 and briefly considered our options for the day [a]. Most of the trails from this side of Tzouhalem are best done with car shuttling but we opted not to pursue this approach due to COVID concerns. In the end, we went up from a trail head off Shore Pine Close, a new strata subdivision above the marinas. See the enclosed map, courtesy of one participant and the Gaia GPS app.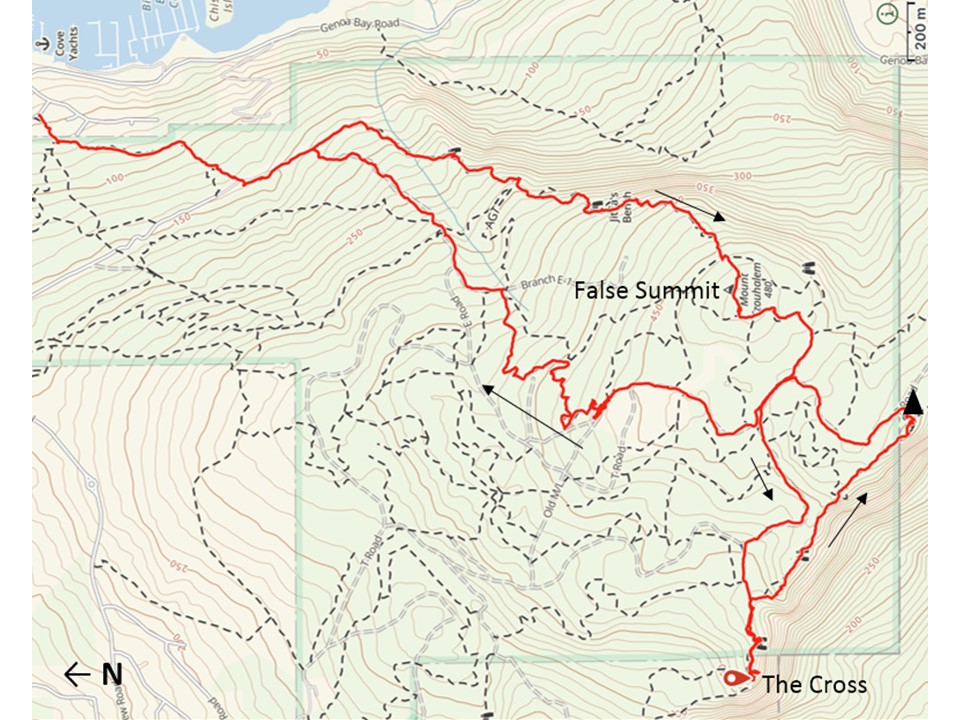 Map of Mt. Tzouhalem with GPS track in red.
After a short climb through the forest we reached the BC Hydro powerline that runs to Genoa Bay and made our way to the start of the Awesome Trail, avoiding the maze of bike trails that riddle Tzouhalem in the process. This trail climbs up through steep forest above cliff bands with views of the Genoa Bay area en route to its end at Field of Dreams, a popular bike trail near the false summit of Mt. Tzouhalem. On reaching this trail we briefly bushwhacked up the hill and located this false summit at ca. 482 m and near to the Finality trail. There were no views from here!
We followed another bike trail out to T-Road, and then elected to hike over and down to the Cross before summiting. This involved going down D-Road and then out to the Cross in deference to the leader's knobby knees! A remembrance celebration at the Cross was followed by a short lunch a bit further away but still with nice views of the Cowichan estuary and the seals barking far below.
Then on to the true summit via Boogey Man and Rocky Mtn. Rd. topping out at an elevation of 494 m. As the true summit lies on Cowichan lands we knew we couldn't linger so down T road we went, eventually noticing (from behind) the No Trespass sign posted by the Municipality of North Cowichan. Then on to the top of an old clear cut for a "Rockies Surprise" of western larch having been planted there.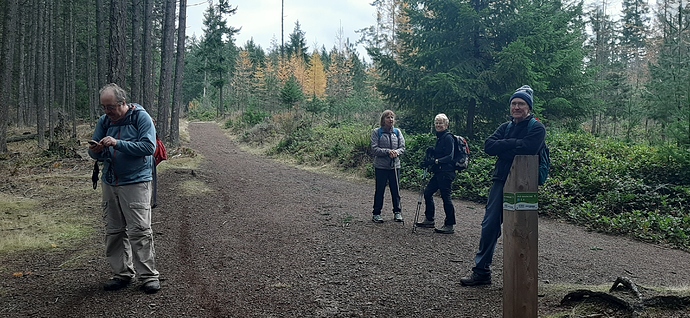 View of larches in a clear-cut with your fearless leader consulting the trail map
We eventually located and then followed Twist & Shout to Finality, then down to E1 Rd. and elected to take that down to the powerline instead of the never ending AGT bike trail! We arrived back at the cars about an hour before sunset. Very pastoral scenery in the open Doug fir forests and lots of pine mushrooms and a few hedgehogs were found. Two grocery bags full to be precise!
Happy trails.
[a] The problems with Tzouhalem are too many trails to choose from, and at least three different jurisdictions (Municipality of North Cowichan, Cowichan Tribes and the Nature Conservancy of Canada).