A group of four intrepid adventurers (Mike Hubbard, Catrin Brown, Vivian Addison and yours truly) set forth from the Sooke Hills Wilderness parking lot on Sunday Feb 20 (i.e. two days before Twosday 22/02/2022 or 2/22/22 in North America) at 10 a.m. having found four parking spots on a nice sunny day and during a long weekend no less. We were headed for Mt. Braden and as it transpired, we elected to follow "Dave's Route" up to Plateau Peak after a brief pow-wow along the Veitch Ck. carriageway. This nice route follows an open ridge with excellent views hiker's right to a very flat spot at the top (the plateau).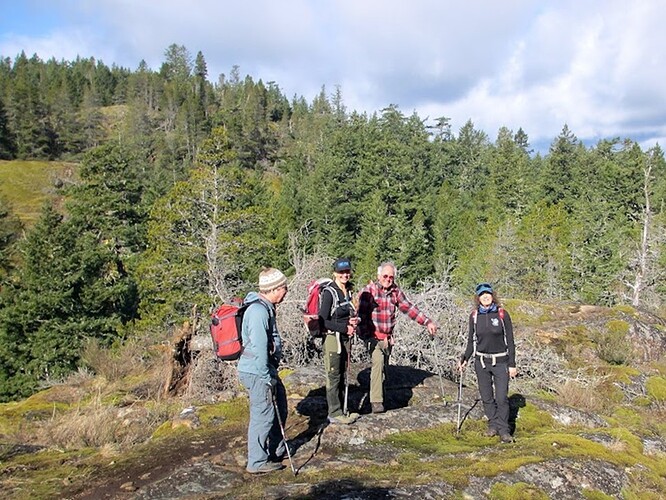 Plateau Peak - Photos courtesy of Mike Whitney
At this point we encountered our first "guest" and this was Mike Whitney who had just followed us up the last bit having come from Mt. McDonald and Humpback Rd. That something was afoot was known to your tail guide courtesy of his new cell phone and provider, which apparently has good coverage deep within the Sooke Hills but not so much where he lives in the Cowichan valley or points north…
Anyhow after a brief discussion we continued on to the summit block of Braden, while Mike went down a bit to locate his entourage (consisting of Mary Sanseverino, Ken Wong and Dave Suttill – of Dave's Route fame) who were not following Dave's Route up Plateau Peak. Don't ask me why – any amount of flat travel along a carriageway to the start of a well-graded ascent route vs. more direct approaches are lost on yours truly. Though I am part packhorse - having grown up in the Rockies…
So, lunch on the sub-peak of Braden with superlative views involved a reunion of sorts shortly after we arrived, leading to a lunch group of eight section members, hopefully all in good standing. I was reminded after I have yet to truly summit Braden as a marginally higher bump, requiring good balance to reach, or at least return from, lies just to the north at the start of Route 66. Oh well, maybe when I am older…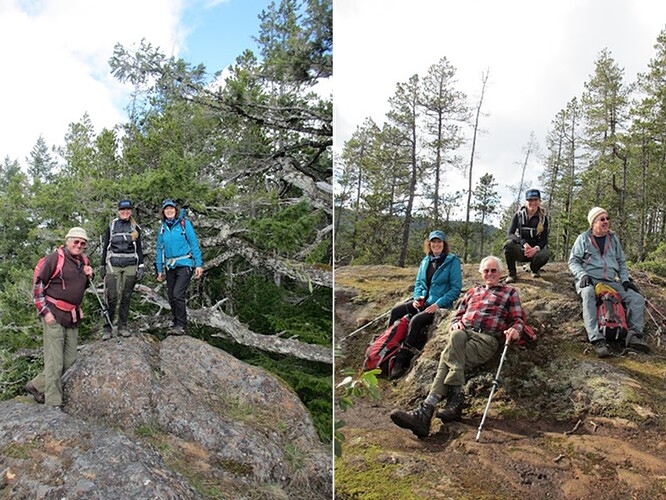 True Summit of Braden (Left) Last Bump on Route 66 (Right)
Route 66 was established and christened by Tony Vaughan when he was 66, while I have a couple of years left to repeat this feat of daring do. This very nice and scenic traverse and descent route samples most of the high points in a horseshoe extending W of Braden, including Castle Peak, on its way down to the John Hasell trail. Though there was some discussion amongst the "interlopers" about a more direct return route to their vehicles, in the end they were content to join us for this leisurely lope and we parted ways at the intersection of the Hasell trail with the now verboten Waterboard Rd. (don't ask don't tell).
After a short delay to reunite one of our group with their missing headlamp, we emerged safe and sound at the trailhead by 3:30 p.m. surely not a world's record for this 11-12 km loop. We had a brief dusting of sleet below Castle Peak (not requiring even a jacket) but any inclement weather held off until the drive over the Malahat much later after a visit to the 17 Mile House. All in all a splendid day…