My family and I, two of whom are under 12, hiked to "camp 2" aka the gravel bar on July 26. We spent 2 nights at the campsite, which was pretty full for a Monday/Tuesday. Everything was pretty clean and tidy though and we met the Park staff member on the way up. The outhouse was pretty "outhouse-y" but better than nothing! The second half of the trip up is pretty steep and required some sherpa duty for the little ones but they made it in about 4 hours.
Side note: print the backcountry camping receipt out or save it to a phone for them to check. All I brought was the confirmation number which was not helpful for the staff.
We headed to Landslide Lake for dinner and a cleansing swim that night then bedded down on the gravel back at Camp 2.
The following day we made our way to the Elk Pass trail, which is well marked on the way to Landslide. Directions in the Island Alpine guide were spot on the entire way. The main challenge was the lush underbrush that was consuming the trail. The two kids would frequently disappear under giant blueberry bushes.
This trail is pretty steady in its climb, with some good breaks at the Hemlock grove and avalanche slides. We didn't see any critters but did hear a large noise in the bushes at one point, and saw some dried elk scat along the river bed.
We managed to get to the last climb before the little tarns when the party decided that ACCVI principle #2 - "come back (family)" was in jeopardy, and principle 4 - "have (type 2) fun" - had been passed about 20 minutes earlier. We therefore stopped and had a relaxing lunch among the avalanche slide remnants and the north buttress of Rambler Peak, before completing the long descent back to camp 2.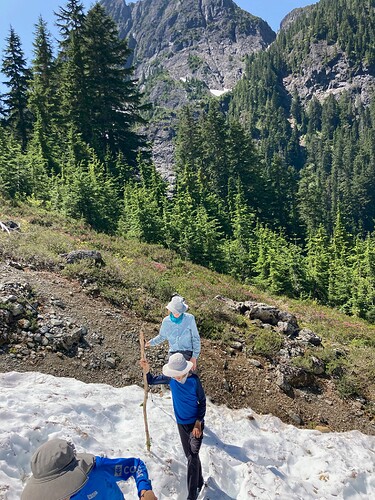 The next day we packed after a leisurely breakfast and made our way back to the trailhead in 3 hours or so. Much fun had by all in the end. Highlights included crossing snowbanks, making rock dams in the Elk River, cold and beautiful water for drinking and quickly bathing, and numerous games of the Monopoly Deal card game.