Originally published at: https://accvi.ca/events/banff-centre-mountain-film-festival-world-tour-2023-24/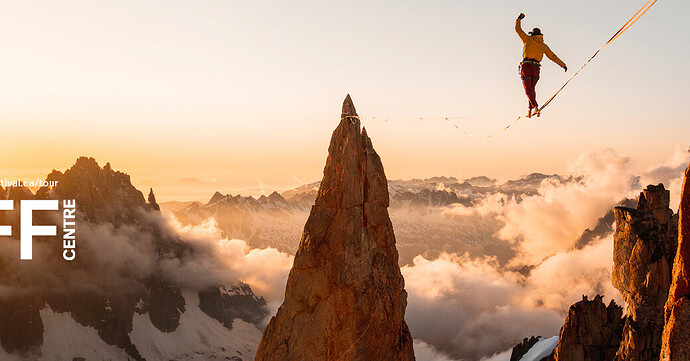 Get ready for an unforgettable cinematic journey! Join the Alpine Club of Canada Vancouver Island Section as we once again bring to Victoria a selection of the most thrilling, awe-inspiring, and heart-pounding films from the 2023/24 Banff Centre Mountain Film Festival World Tour.
Discover epic journeys, monumental adventures, and scenic locations that will take your breath away. Immerse yourself in cultural exploration and personal stories that reveal the human spirit's incredible resilience. Witness the triumph of passion and determination over fear and exhilaration, as explorers and adventurers push the boundaries of what's possible.
From leading expeditions to exploring uncharted territories, from climbing towering peaks to hiking through pristine wilderness, and from kayaking wild rivers to swimming in crystal-clear lakes, these films capture it all. Journey through breathtaking mountains, winding rivers, lush valleys, and unforgiving deserts, experiencing the beauty and challenges of nature like never before.
Don't miss this opportunity to be transported to the heart of these incredible landscapes and the minds of the adventurers who conquer them. The 2023/24 Banff Centre Mountain Film Festival selection promises unforgettable stories of courage, perseverance, and the indomitable spirit of the great outdoors. Get ready to be inspired, thrilled, and amazed! Join us for an adventure of a lifetime on the big screen.
When: 7:00 pm Sunday January 28, 2024
Where: The Farquhar at UVic Tickets: Tickets available at the UVic Ticket Office, online and by phone: http://www.uvic.ca/farquhar/ 250-721-8480 / Jamie Cassels Centre B103 – Main Floor
Early-bird special $27.50 until Thursday, November 30th – includes entry to a prize draw (*details below)
Regular ticket price $32.50 starting Sunday December 3rd
Prize Draw details:
The Prize: A two-night stay for one room (up to six people) at Hišimy̓awiƛ , the club's fabulous hut on 5040 Peak, Vancouver Island, with access to extensive summer alpine hiking and superb winter and spring skiing. The value of the prize is: $150 per night. alto learn more about the hut, visit: https://accvi.ca/5040-peak-hut/.
Booking Process: The procedure for booking the two-night stay prize will be provided to the winner. The prize recipient of the two-night stay is responsible for securing the reservation and booking at the Hut. The two-night stay prize must be used before December 31, 2024.
The prize draw: Each ticket purchased during the Early-bird Special timeframe (i.e., by 11:59 PM on November 30, 2023 ) is eligible for the prize draw.
One winning ticket will be randomly drawn on January 28th at the screening event at The Farquhar at UVic; the prize must be accepted in person on the night of the event. The prize has no monetary re-sale value.
Banff Centre Mountain Film Festival world tour website: https://www.banffcentre.ca/banffmountainfestival/tour
ACCVI Contact: bmff@accvi.ca